Traductions possibles :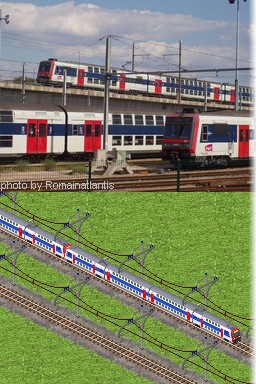 SNCF Class Z20500 is a double-deck EMU used by SNCF mostly and massively in Paris'suburb.
194 Z20500 units were built between 1988 and 1998 for RER and Transilien networks (lines serving Paris'suburb). Six units are also used in region Nord - Pas de Calais (Northern France). These trains are inspired by previous double-deck trains (Z5600 and Z8800). Carriages of the second order (1991) of Z20500 are longer than before. From 2001, the new class Z20900 which is based on Z20500 is built. Its exterior looks same as Z20500 but the inside is different, including air conditioning. Z20500 have been refurbished since 2007, getting a new blue "transilien" livery. Since 2012, Z20500 assigned to RER line C are refurbished in the STIF/Carmillion SNCF livery.
Composition of Z20500 trainsets vary with the use of short or long carriages or even VB 2n cars. Only the long carriage has been reproduced in game. Z20500 trains are composed of four or five vehicles.
| Composition | Speed | Power | Weight | Capacity |
| --- | --- | --- | --- | --- |
| L+2C+L | 140 kmph | 1.0 * 2800 kW | 228 t | 910 passengers |
| L+3C+L | 140 kmph | 1.0 * 2800 kW | 273 t | 1195 passengers |