Traductions possibles :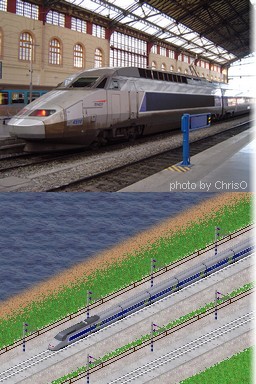 TGV Atlantique is an electric high speed train used by SNCF. It can reach 300 kmph.
It's the second generation of TGV, which entered service from 1989 on the newly opened LGV (High speed line) Atlantique between Paris and Western France. The differences between TGV PSE and TGV Atlantique are a more aerodynamic design, a longer train (two more carriages), the use of synchronous engines with higher power. Moreover, bogies under carriages touching locomotives don't have engines anymore, only locs'bogies have engines. Thus, the space over the bogies in these carriages was rearranged for passengers.
These trains replaced a significant number of intercity trains in Western France, including Trans Europe Express trains. Some TGV Atlantique were used on the South-East high speed line but the trains were too long to be used in multiple units. In 2000, two trains were transformed to be pulled by CC 72000 locomotives until 2005 on the line between Nantes and Les Sables d'Olonne (Western France) which was not electrified.
TGV Atlantique trains are made of two locomotives and an articulated set of ten carriages including a bar. They can be used in multiple units.
| Composition | Speed | Power | Weight | Capacity |
| --- | --- | --- | --- | --- |
| 10 vehicles | 300 kmph | 1.7 * 8800 kW | 444 t | 574 passengers |