Traductions possibles :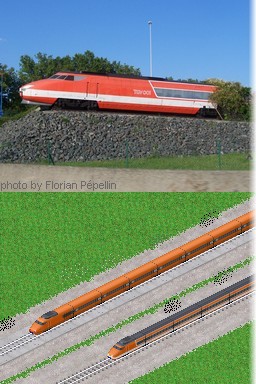 TGV 001 is the first of two TGV prototypes ordered by SNCF in early 70s. The second one, TGV 002, was cancelled before its construction because its technologies, including tilting cars, were found too complex, for construction as well as maintenance on commercial trains.
TGV 001, which started tests in april 1972, was meant to test a train at very high speed. Back there, SNCF was planning construction of LGV (high speed lines) to be travelled at speeds between 250 and 300 kmph. This train, composed of five carriages, is completely articulated (bogies are placed between carriages) and features distributed power. All the six bogies of the train had electric motors, powered by gas turbines placed in front and rear "locomotives" (two turbines per loc). The train was built by Alsthom and the turbines by Turbomeca. One of the three cars was equiped as a test car whereas the two others were arranged as first class and second class passenger cars.
TGV 001 reached 318 kmph at december 8th 1972. It is, still now, the speed record on rail for a thermal-propelled train. Although it was a test train, it carried 400 passengers. Ironically, TGV 001 was used to test high speed pantographs.
Even if SNCF first thought of using gas turbine engines for its high speed trains, completely electric propulsion was finally chosen, mostly because of the oil crisis of the 70s. Today, both locs are exposed as "flowerpots" by highways A4 at Biescheim and A36 at Belfort (both in Eastern France).
TGV 001 was originally planned to have six cars and travel at 260 kmph in commercial service. TGV 002 was planned to have ten cars and travel at 300 kmph.
| Composition | Speed | Power | Weight | Capacity |
| --- | --- | --- | --- | --- |
| 001 8 vehicles | 260 kmph | 1.5 * 4500 kW | 248 t | 336 passengers |
| 002 10 vehicles | 300 kmph | 1.5 * 6600 kW | 302 t | 448 passengers |