Traductions possibles :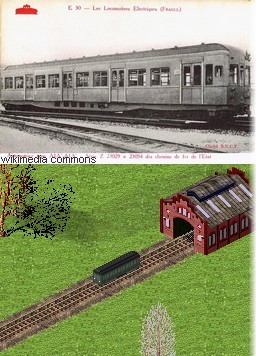 Class Z1200 were electric multiple units of Chemins de fer de l'Etat (State's railway) used in the region of Paris until 1966.
These EMUs were said of the "second series" after the first series (Etat 1001 to 1018). A hundred units were ordered in 1912, during the construction of the first series. However, because of World War 1, only 26 units were delivered in 1921. Although the interior is arranged like the first series, they were much heavier so they needed a (A1A)(A1A) setting (two bogies of three axles whose two are propelled). A unit is saved in its original livery in Cité du Train in Mulhouse.
These EMUs had one vehicle able to be coupled in multiple units.
Data
| Name | Speed | Power | Weight | Capacity |
| --- | --- | --- | --- | --- |
| Etat_Z1200 | 80 km/h | 0.9* 486 kW | 73 t | 116 passengers |