Traductions possibles :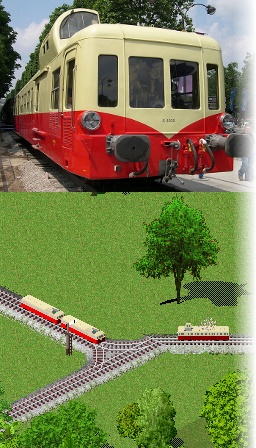 SNCF Class X3800 is a diesel railcar in service between 1950 and 1988.
251 units had been built by Renault, De Dietrich and ANF (factories of Northern France). Most of them were finished in second class. They were recognizable because of their non-centered driving cab mounted on their roof, hence nickname "Picasso" as this railcar reminds the distorted faces represented by the painter. Since they were reliable and popular, some touristic lines are still using some of these railcars.
These railcars are composed of only one vehicle which can be used in multiple units.
XR7800 "Decauville"
One of the "united" trailers made for SNCF. Most of them were built by Decauville company.
Data
| Name | Speed | Power | Weight | Capacity |
| --- | --- | --- | --- | --- |
| X3800_Picasso | 120 km/h | 1.40 * 250 kW | 31 t | 67 passengers |
| XR7800_Decauville | 140 km/h | NA | 19 t | 66 passengers |