Traductions possibles :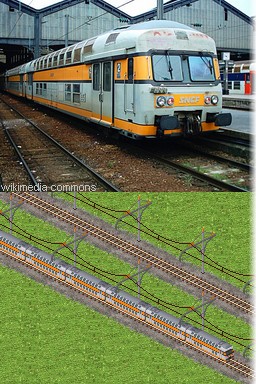 SNCF Class VB2n are suburb double-deck cars used in the suburb of Paris.
589 cars were produced, they are used from stations Saint-Lazare (North-West of Paris), Gare du Nord (North of Paris) and Montparnasse (South-West of Paris). They were used from Gare de l'Est (East of Paris) too, before RER E line entered service with its class z22500.
The first VB2n entered service in 1975. They were originally equiped with leather benches which were replaced by individual seats later. The original livery, gray with a central orange stripe and an thin orange stripe at the bottom, was replaced by the blue white and red "Ile-de-France" livery in 1995 and then by the "Transilien" livery from 2003.
However, VB2n have drawbacks, they are too noisy but are also heavy so they need powerful locomotives in order to serve as suburban trains. Several cars have been used to extend class z5600 EMUs.
VB2n are used in reversible trainsets of six to eight cars.
| Composition | Speed | Weight | Capacity |
| --- | --- | --- | --- |
| 6 vehicles | 140 kmph | 295 t | 1458 passengers |
| 7 vehicles | 140 kmph | 343 t | 1706 passengers |
| 8 vehicles | 140 kmph | 391 t | 1954 passengers |