Traductions possibles :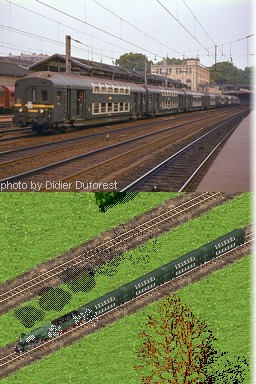 These are double-deck cars built for the French state's rail company.
In the 30's, State's network has to deal with overcrowding of the Western Paris'suburb network, trains which were used there being obsolete. Trains'capacity must be increased without increasing their length, hence the idea of using double-deck cars. Bidel cars, which have a closed decker, running on Vincennes'line (East of Paris) are too old, a newer stock is needed. Thus, the first double-deck cars are made by Les Entreprises Industrielles Charentaises (Charentes'industrial companies) in 1933.
This stock is cutting-edge for its time. It's made out of both steel and aluminum in order to reduce its weight. Rear car has a driving cab to make trains reversible.
Only fifty units are made, enough to carry the passengers. Their design precedes ones of current stock : VB 2n, VO 2n, V 2n, Z5600, Z8800, etc …
Data
Name
Speed
Weight
Capacity
Etat_double-deck_car
Etat_double-deck_car_rear
120 km/h
48 t
183 passengers