Traductions possibles :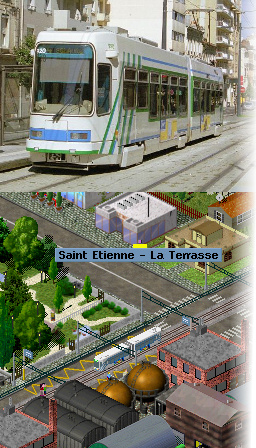 The Saint-Etienne tramway is a tram system in the French city of Saint-tienne, Rhône-Alpes (France), its particularity is that is has functionned non stop since its opening in 1881.
Alsthom-Vevey-Duewag tramcars :
This class of tramcars, a variation of the GEC-Alsthom TFS, exists in two types; tramcars introduced in 1991 and 1998. The first class was introduced between 1991 and 1992 at the time of the line extension to Hôpital Nord , they are made of two cars and have a seating capacity of 43; they are numbered 901 to 915. In 1998, a second batch of tramcars was introduced with only minor differences with their sisters; they are numbered 916 to 935.
The first class of modern tramcars (15 tramcars) were equipped with trolley poles as the PCC were still in use, there were subsequently replaced by pantographs as the PCC were withdrawn and the second batch of modern cars was introduced.
The second class of Alsthom-Vevey tramcars (20 tramcars) are capable of reaching a maximum speed of 70 km/h. The were built on 23.24 m long H chassis and an empty weight of 27.4 tons. Current is collected by pantograph, as opposed to trolley pole like on the PCC cars. The current delivered is 600V DC.
source : wikipedia
Technicals datas in Simutrans :
| vehicule | speed | power | capacity | weight | gear | energy | disponibility |
| --- | --- | --- | --- | --- | --- | --- | --- |
| Alsthom_Vevey_St_Etienne_A | 70 km/h | na | 75 passengers | 12 t | na | electric | 1991-2011 |
| Alsthom_Vevey_St_Etienne_B | 70 km/h | 280 kW | 75 passengers | 15 t | *1 | electric | 1991-2011 |
---
back to "tramways" page