Traductions possibles :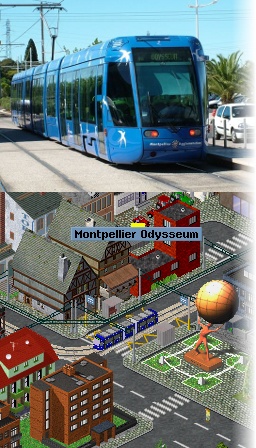 The city of Montpellier, France has a network of two tram lines currently in service, with a third line in construction.
The first line opened in July 2000 and the second line opened in December 2006.
All rolling stock on line 1 is stored at the Les Hirondelles depot in the western district of La Paillade, which is located between the Saint-Paul station and the Hauts de Massane station. The rolling stock comprises 30 Citadis 401 trams and 3 Citadis 402 trams manufactured by Alstom.
The livery of trams on Line 1 was decorated in blue with white swallows by stylists Elizabeth Garouste and Mattia Bonetti.
Originally, Line 1 was operated with 28 3-section Citadis 301 trams with a length of 29.8 m. As ridership became successful on the line and trams had been filling up, between July 2002 and May 2003, the trams were extended from a length of 29.8 m and 3 sections to 40.9 m and 5 sections, and two additional Citadis 401 trams were delivered in January 2002, bringing the number of trams on Line 1 up to 30. The trams are numbered from 2001 to 2030.
Technicals datas in Simutrans :
| | | | | | | | |
| --- | --- | --- | --- | --- | --- | --- | --- |
| vehicule | speed | power | capacity | weight | gear | energy | disponibility |
| Citadis301_Montpellier_front | 80 km/h | 280 kW | 70 passengers | 15 t | *0,9 | electric | 2000 - |
| Citadis301_Montpellier_middle | 80 km/h | NA | 36 passengers | 10 t | NA | electric | 2000 - |
| Citadis301_Montpellier_back | 80 km/h | 280 kW | 70 passengers | 15 t | *0,9 | electric | 2000 - |