Traductions possibles :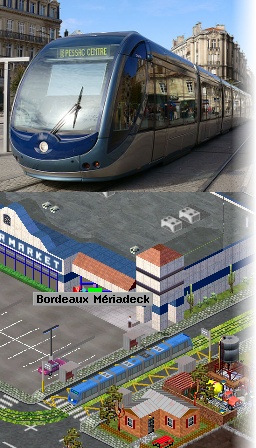 The Bordeaux tramway network (French: Tramway de Bordeaux ) consists of three lines serving the city of Bordeaux in southwestern France. The first line was opened on 21 December 2003; further extensions have increased the route length to 43.9 kilometres (27.3 mi).
The system is notable for using a ground-level power supply of the Alimentation par Sol (APS) system in the city centre.
source : wikipedia
Technicals datas in Simutrans :
| | | | | | | | |
| --- | --- | --- | --- | --- | --- | --- | --- |
| vehicule | speed | power | capacity | weight | gear | energy | disponibility |
| Citadis402_Bordeaux_1 | 90 km/h | 180 kW/h | 40 passengers | 9 t | *1 | electric | 2003-2023 |
| Citadis402_Bordeaux_2 | 90 km/h | NA | 40 passengers | 9 t | NA | electric | 2003-2023 |
| Citadis402_Bordeaux_3 | 90 km/h | 180 kW/h | 30 passengers | 5 t | *1 | electric | 2003-2023 |
| Citadis402_Bordeaux_4 | 90 km/h | NA | 40 passengers | 9 t | NA | electric | 2003-2023 |
| Citadis402_Bordeaux_5 | 90 km/h | 180 kW/h | 30 passengers | 5 t | *1 | electric | 2003-2023 |
| Citadis402_Bordeaux_6 | 90 km/h | NA | 40 passengers | 9 t | NA | electric | 2003-2023 |
| Citadis402_Bordeaux_7 | 90 km/h | 180 kW/h | 40 passengers | 9 t | *1 | electric | 2003-2023 |