Traductions possibles :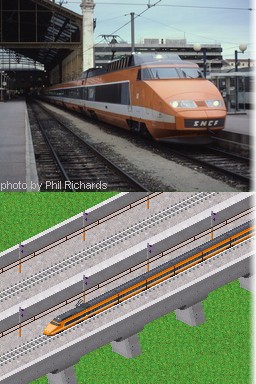 TGV PSE (Paris Sud-Est : Paris South-East) is a high speed EMU of SNCF. It's the first generation of TGV, still in service on French high speed lines.
The first units were built from 1978 after the experiments of TGV 001. The first two units were tested at 260 kmph in Alsace (Eastern France) during two years. They entered service in september 1980 on regular tracks between Paris and Lyon. LGV Sud-Est (South-East high speed line) between Paris and Lyon opened only in september 1981.
At first, TGV PSE were limited to 260 kmph, then the limit changed to 270 kmph in 1982. After modifications, the limit rose to 300 kmph. There were dual-power and triple-power versions, triple power trains traveled to Switzerland.
The original livery of TGV PSE was orange. Between 1996 and 2001, all units were renovated and took grey and blue livery. Since 2012, some units are removed or renovated again, taking the "carmillon" livery. In 2013, all triple-power units were removed.
TGV PSE are used in trainsets of ten vehicles, two locs surrounding an eight-carriages articulated unit including a bar car. They can be used in multiple units.
Sorry about the screenshot looking poor. This is due to an unfit orange player color.
| Composition | Speed | Power | Weight | Capacity |
| --- | --- | --- | --- | --- |
| 10 vehicles | 270 kmph | 1.7 * 6400 kW | 385 t | 455 passengers |