Traductions possibles :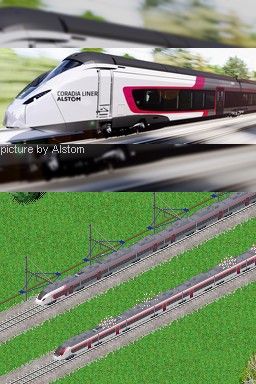 Coradia liner is an intercity train ordered by SNCF at 34 units to replace its Corail cars. First units should be delivered by the end of 2016. These dual-mode multiple units get the same layout as six-carriages-regiolis trainsets, composed of two articulated half-units.
According to some articles, liner trainsets will be composed of ten vehicles (two half-units of five vehicles). Both electric and diesel versions were created for Simutrans. The liveries which were reproduced were seen in pictures published by Alstom.
| Composition | Speed | Power | Weight | Capacity |
| --- | --- | --- | --- | --- |
| 10c (diesel) | 200 kmph | 2.5 * 2000 kW | 393 t | 600 passengers |
| 10c (electric) | 200 kmph | 1.6 * 4000 kW | 393 t | 600 passengers |